Looking To Build A Home In Middle Tennessee?
A Little About Hannah Custom Homes
Hannah Custom Homes (HCH), LLC is your premier Custom Home Builder in Middle Tennessee. Hannah Custom Homes will build you and your family your dream home. Designing and building your dream home is a great undertaking. At Hannah Custom Homes we consider our customers to be the cornerstone of the entire building process. We appreciate your personal style and back your ideas with practical solutions and optional amenities, making your dream home a reality! We take pride in our homes and want to share with you our excitement and love for building a perfect home for you and your family.

Serving All Middle Tennessee

Rated A+ By The Better Business Bureau

Many Happy New Homeowners

We'll Walk You Through Every Step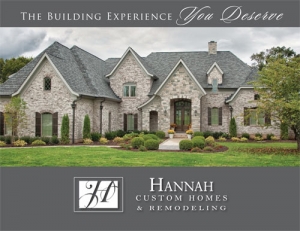 Hannah Custom Homes Brochure.
 We work with a complete team of outstanding companies to help you during the building process. 
Download our brochure
 to view our work and meet other high quality companies we partner with to complete the building process.
Customer Builder Trend Login
It has been a dream come true — moving into your custom home.  You've taken months to handle even the smallest detail with your expert builder at Hannah Custom Homes & Remodeling. But, is your new home as safe as it could be? […]
The air outside is turning crisp. It is time to enjoy the splendors of autumn — falling leaves, cooler temperatures, apples, and pumpkins. Who doesn't love this time of the year?
While enjoying the change of seasons can be fun, there is a bit of work that goes into this pre-winter cooldown. Take the time now to cover a few basics around your house to ensure that your family can enjoy a warm, cozy and problem-free winter.
[…]