Looking To Build A Home In Middle Tennessee?
A Little About Hannah Custom Homes
Hannah Custom Homes (HCH), LLC is your premier Custom Home Builder in Middle Tennessee. We are family owned and pride ourselves on our reputation. Hannah Custom Homes will build you and your family your dream home. Designing and building your dream home is a great undertaking. At Hannah Custom Homes we consider our customers to be the cornerstone of the entire building process. We appreciate your personal style and back your ideas with practical solutions and optional amenities, making your dream home a reality! We take pride in our homes and want to share with you our excitement and love for building a perfect home for you and your family.

Serving All Middle Tennessee

Rated A+ By The Better Business Bureau

Many Happy New Homeowners

We'll Walk You Through Every Step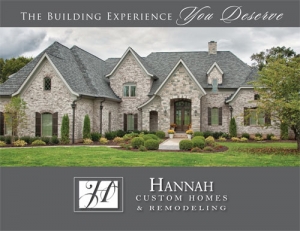 Hannah Custom Homes Brochure.
 We work with a complete team of outstanding companies to help you during the building process. 
Download our brochure
 to view our work and meet other high quality companies we partner with to complete the building process.
Customer Builder Trend Login
You've just remodeled your kitchen, and it is gorgeous! Now that those new cabinets are installed, it is time to move all of your kitchen belongings back home. But where to start? Begin by making the most of your cabinets. Here are a few tips to get you started: […]
Are you thinking about getting new cabinets for your kitchen, bathroom, laundry room, or other areas in your home? Over time, frequently-used cabinets can get scuffed, scratched and worn. Refinishing them is a possibility, but you should also consider a full replacement, especially if you'd like to bring older cabinets up to date to match other areas in your home. To help fuel your imagination, here are some top cabinet trends to consider! […]